fractures at the top divide entire organizations
Executive Teams Can't Operate In Silos
Turf wars at the top decimate organizational effectiveness. Without true cohesiveness and an all-for-one-one-for-all spirit, executive teams inadvertently do a disservice to their organizations. We can help.
Most executive teams figure out the tangible elements of running the business. They focus on strategy, finance, data, and operations. They neglect the intangibles and overlook the detrimental effects to the employee experience. Long term, they compromise their own credibility and effectiveness if the building blocks of executive team effectiveness are not addressed.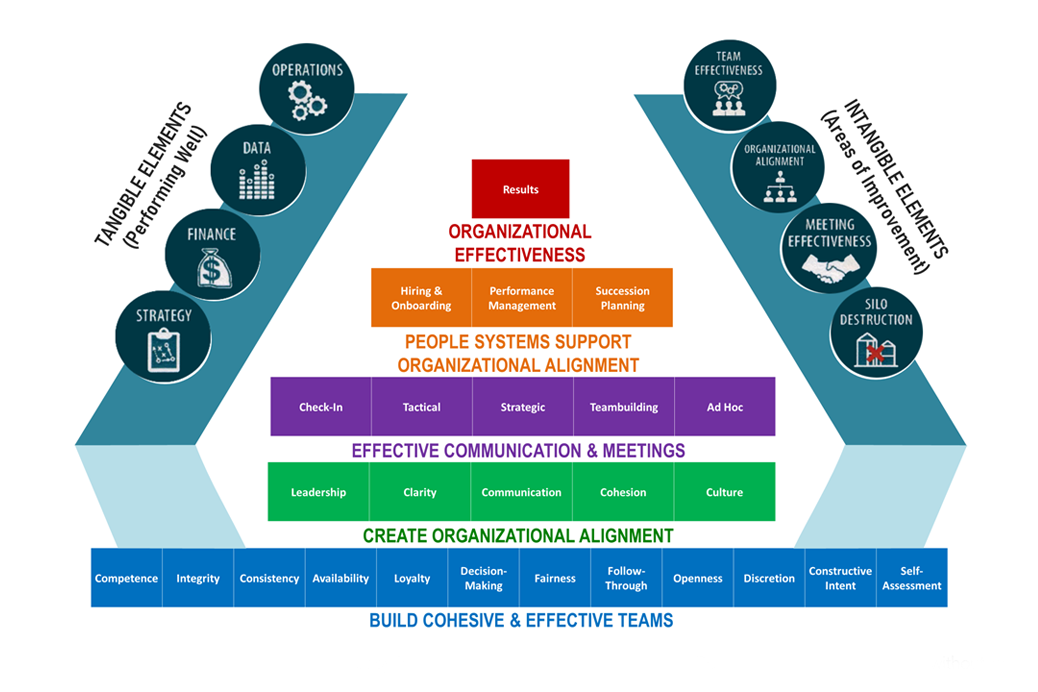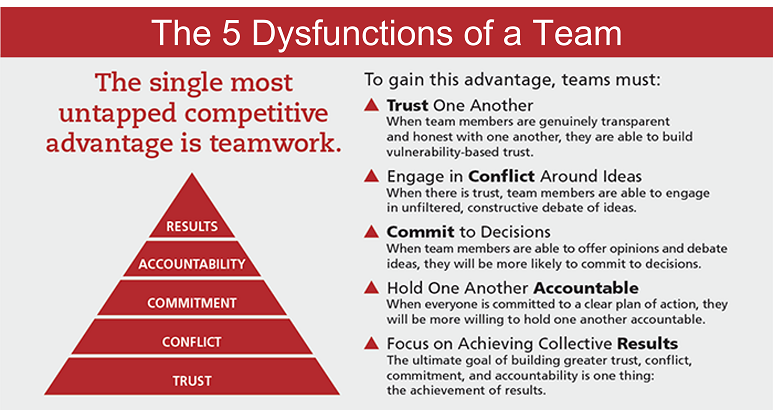 Team Behaviors
We favor the work of Patrick Lencioni because it's behavior-based. The Team Assessment Report (TAR) pinpoints behavioral changes that will strengthen an executive team and help them break down silos and issues that keep them from operating in one accord.
Post-assessment, we'll stage a series of brief workshops that unify teams with thought-provoking activities and in-depth discussions. We'll work our way up the pyramid to drive better business results.
FAQs about Executive Team Building
How do executive teams make time for these sessions?

The initial investment of time pays back big time-savings dividends long-term! We will work with your team to find the best day and time for our meetings. Most executive teams prefer virtual and short sessions (90 minutes) spread over 3-6 months.
What will the rest of the organization think about this?

If they know, they'll think it's about time! If there's in-fighting or division at the top, it's not a secret.
We're all highly skilled. Will this feel like time-wasting fluff?

At first, some may feel that way. But the results will change their minds after just a few sessions. When executive teams start to cascade communication more effectively, make decisions that everyone gets behind, and collaborate rather than making unilateral decisions... it makes a compelling case for why these intangibles are actually far more substantial than first thought.
Are we talking about trust falls and ropes courses?

No. If we choose team building activities, there will be a clear reason for them. Some teams want outdoor and active engagements. Others prefer a more subdued approach. We'll be customizing the content and the delivery to suit your team's style and needs. The primary focus, though, will be on behavior changes that build trust, make conflict productive, and yield firm commitments to group decisions.
Can we just get it over with in an offsite?

Offsite meetings can accelerate initial change due to the immersion and focus. But packing too much into a single engagement will mean less retention and a drop off over time. We suggest a learn-do approach delivered in manageable chunks.